| | |
| --- | --- |
| Pioneer Valley Folklore Society Happenings | October 2016 |
Contents
Orlen & Gabriel will join October 1 Song & Story Swap
---
Folk pop duo Orlen & Gabriel will perform at October 1 Song & Story Swap
Please come share in an evening of music and stories at the Pioneer Valley Folklore Society Song & Story Swap.
Saturday, October 1, 7:00 p.m. at the The Nacul Center, 592 Main St., Amherst, Mass (see map).
Guest performers will be the folk duo, Orlen & Gabriel.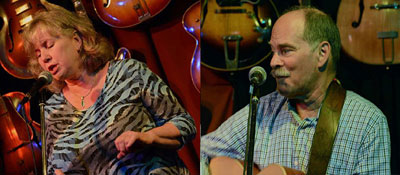 A singer-songwriterwith roots in the Boston music scene of the late sixties and early seventies, Michael Orlen cut his musical teeth at legendary Boston venues including the Sword in the Stone and Turk's Head. In addition to serving as one-half of the folk pop duo Orlen and Gabriel, Michael has enjoyed a lengthy solo career, and was a member of the popular seventies acoustic rock trio Home Free.
His original songs are confident expressions of optimism with a dose of irony thrown in. He also draws on an extensive knowledge of twentieth century folk, blues, and ragtime music to interpret songs that resonate in today's world.
Michael teams up with his longtime partner in life and song, Chris Orlen. She has performed in concert with Michael throughout New England and sang for several years with the cabaret group Give My Regards.

More information may be found at http://www.bandmix.com/michael-orlen/.
The theme this month is Haunting.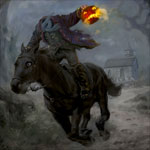 The Song & Story Swap is open to the public, free of charge with donations accepted ($5 - $10 is suggested). People of all ages gather to share stories and songs that are traditional, newly written, or of personal experiences. You can tell, sing, or lead everyone in singing, or request a song or story. Listeners are welcome.
For information contact Paul Kaplan, (413)-687-5002 or visit http://www.filbert.com/pvfs.
---
Note. If you would prefer to receive this monthly newsletter as plain text (no photos or formatting, but requires less space), please click on the link below:


Please send as plain text, not HTML.

If you would like to be removed from the mailing list click on the link below:
Pioneer Valley Folklore Society, Amherst, Mass.
Web site - http://www.filbert.com/pvfs/
Newsletter archives - http://www.filbert.com/pvfs/news/
Email - pvfolk@yahoo.com
Discussion forum and announcements - http://groups.google.com/group/PVFS
Director/Host: Paul Kaplan
Webmaster: Jeff Lee
September 27, 2016