| | |
| --- | --- |
| Pioneer Valley Folklore Society Happenings | December 2017 |
Contents
The Roundsingers remember Elizabeth Farnsworth at Dec. 2 Song & Story Swap
Readers wanted at Nacul 45th anniversary
Two harmonic duos at Mt. Toby
Leverett Chorus to give Winter Concert on Dec. 10
---
The Roundsingers remember Elizabeth Farnsworth
Please come share in an evening of music and stories at the Pioneer Valley Folklore Society Song & Story Swap.
Saturday, December 2, 7:00 p.m. at the The Nacul Center, 592 Main St., Amherst, Mass (see map).
The evening will feature The Roundsingers in a special remembrance of folksinger and naturalist Elizabeth Farnsworth.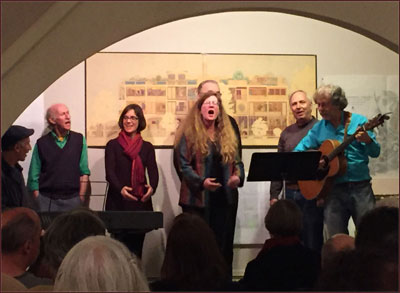 Elizabeth Farnsworth was a talented folksinger, renowned botanist, gifted illustrator and an energetic champion of social justice, and her death last month at the age of 54 has deeply saddened the many people in the Song & Story Swap community who were touched by her.
A skilled guitar player and vocalist, Elizabeth Farnsworth appeared in area concerts both as a soloist and in the duo, Easy Wind. She was frequently seen leading and sharing in group sings, and was a member of the Greenfield-based Amandla Chorus.
Elizabeth left a tremendous legacy of accomplishments outside of music as well. Institutions she mentored or taught at include Harvard, Yale, Smith, Hampshire, UMass and the Conway School. She served as a senior researcher and educator with the New England Wildlife Society and co-authored the Peterson Field Guide to Ferns. She also co-wrote The Connecticut River Boating Guide: Source to Sea, along with fellow Roundsingers, John and Wendy Sinton.
The Roundsingers are a group of musicians and folksong enthusiasts who meet regularly to share songs out of Rise Up Singing and other sources. Members have included Carla Cooke, Roger and Shirley Conant, Ken Levine, Karl Moore, Kim Wolfson, Linda Wallack, Carolyn Oppenheim, Jay Mankita and Paul Kaplan. At the December 2 tribute, the Roundsingers will contribute recollections or lead songs in memory of Elizabeth Farnsworth. Attendees are invited to bring copies of Rise Up Singing and join in the singing. Proceeds from the evening will be donated to the Amandla Chorus.
The following weekend, a celebration of Elizabeth Farnsworth's life will be on held Saturday, December 9, 1:00, at the Unitarian Society of Northampton and Florence, 220 Main Street, Northampton. A reception will follow at 3:00.
The theme this month is Nature.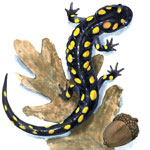 The Song & Story Swap is held on the first Saturday of each month, excepting July and August, and is jointly sponsored by the Pioneer Valley Folklore Society and the Nacul Center (http://tiaarchitects.com/nacul). Visit the Folklore Society website at http://www.filbert.com/pvfs.
The Song & Story Swap is open to the public, free of charge with donations accepted ($5 - $10 is suggested). People of all ages gather to share stories and songs that are traditional, newly written, or of personal experiences. You can tell, sing, or lead everyone in singing, or request a song or story. Listeners are welcome.
For information contact Paul Kaplan, (413)-687-5002 or visit http://www.filbert.com/pvfs.
---
Nacul Center celebrates with reading of The Co-op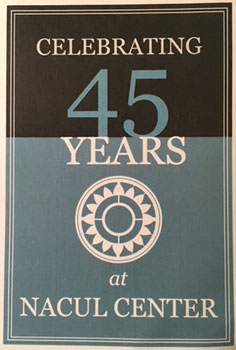 On December 16, the Nacul Center, which has served as the home of the Song & Story Swap for the past 11 years, will hold a reception to celebrate the 45th anniversary of its founding. The event will include the reading of a new play, The Co-op, written by architect and Nacul Center owner, Tullio Inglese.
The Nacul Center is located at 592 North Whitney St. in Amherst. A gallery reception will begin at 12 noon, and the play reading will take place at 2pm. Anyone interested in reading, or wanting more info should contact tiaarchitects@gmail.com or call 413-256-8025.
---
Annie Patterson & Peter Blood, Two of a Kind play Mt Toby
Catch two celebrated folk duos, Annie Patterson & Peter Blood, and Philadelphians David and Jenny Heitler-Klevans who make up Two of a Kind. They will appear at the Mount Toby Meeting House, 194 Long Plain Rd. (Rt 63) in Leverett, MA on Saturday, Dec. 9 at 2pm. More info at https://mttobyconcerts.wordpress.com/.
---
Leverett Chorus Concert on 12/10
On Sunday, December 10, at 4pm, the Leverett Community Chorus will present its annual Winter Concert featuring a wide range of songs from around the world. It takes place at Leverett Elementary School, 85 Montague Rd., Leverett. Admission is $7. learn more at https://www.leverettchorus.com/.
---
Note. If you would prefer to receive this monthly newsletter as plain text (no photos or formatting, but requires less space), please click on the link below:


Please send as plain text, not HTML.

If you would like to be removed from the mailing list click on the link below:
Pioneer Valley Folklore Society, Amherst, Mass.
Web site - http://www.filbert.com/pvfs/
Newsletter archives - http://www.filbert.com/pvfs/news/
Email - pvfolk@yahoo.com
Discussion forum and announcements - http://groups.google.com/group/PVFS
Director/Host: Paul Kaplan
Webmaster: Jeff Lee
November 29, 2017