| | |
| --- | --- |
| Pioneer Valley Folklore Society Happenings | February 2018 |
Contents
Storyteller John Porcino will join Feb. 3 Song & Story Swap
Some upcoming local shows
---
John Porcino will join Feb. 3 Song & Story Swap
Please come share in an evening of music and stories at the Pioneer Valley Folklore Society Song & Story Swap.
Saturday, February 3, 7:00 p.m. at the The Nacul Center, 592 Main St., Amherst, Mass (see map).
The evening's featured performer will be storyteller and musician John Porcino.
A storytelling class in the fall of 1980 paved the way for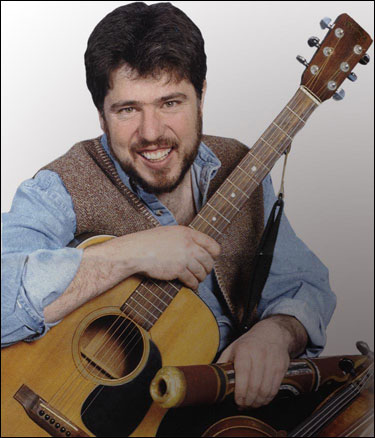 John Porcino to choose the life of a professional storyteller-musician. Thousands of performances and workshops later his love of the simple art continues to deepen.
His performances are a mix of stories and songs that are sparked to life with warmth, humor, a playful touch of audience participation, and a twist of music from around the world.
He is is co-editor of the award winning book Spinning Tales: Weaving Hope, author of feature articles in Family Fun magazine, and a contributor to the books The Healing Heart and Joining In. A compilation of his stories may be found on the recording, A Heck of a Way to Stay Warm.
John Porcino now celebrates more than 35 years of storytelling and musical performance. Don't miss this opportunity to hear one of the finest raconteur's around.
Find out more about John Porcino at johnporcino.com.
The theme this month is Repetition.

The Song & Story Swap is held on the first Saturday of each month, excepting July and August, and is jointly sponsored by the Pioneer Valley Folklore Society and the Nacul Center (http://tiaarchitects.com/nacul). Visit the Folklore Society website at http://www.filbert.com/pvfs.
The Song & Story Swap is open to the public, free of charge with donations accepted ($5 - $10 is suggested). People of all ages gather to share stories and songs that are traditional, newly written, or of personal experiences. You can tell, sing, or lead everyone in singing, or request a song or story. Listeners are welcome.
For information contact Paul Kaplan, (413)-687-5002 or visit http://www.filbert.com/pvfs.
---
Upcoming local shows
2/2 - Anand Nayak & Polly Fiveash, and Rachel Laitman Trio. First Fridays @Coho. Pioneer Valley Cohousing, 120 Pulpit Hill Rd., Amherst, MA. 7:30pm.
2/3 - Tom Filiault. Wendell Full Moon Coffeehouse. Wendell Town Hall, Wendell, MA. 7:30pm.
2/10 - Kit Johnson, Ben Tousley, Sue Kranz, Court Dorsey, Jay Mankita. Mount Toby Fundraiser. Mount Toby Friends Meeting House, 194 Long Plain Rd., Leverett, MA. 7:30pm
2/18 - Interplay Jazz Band featuring Bob Weiner and Riley Godleski. Rally for Real Democracy. The Harp, 163 Sunderland Rd., Amherst, MA. 12noon.
---
Note. If you would prefer to receive this monthly newsletter as plain text (no photos or formatting, but requires less space), please click on the link below:


Please send as plain text, not HTML.

If you would like to be removed from the mailing list click on the link below:
Pioneer Valley Folklore Society, Amherst, Mass.
Web site - http://www.filbert.com/pvfs/
Newsletter archives - http://www.filbert.com/pvfs/news/
Email - pvfolk@yahoo.com
Discussion forum and announcements - http://groups.google.com/group/PVFS
Director/Host: Paul Kaplan
Webmaster: Jeff Lee
January 31, 2018