| | |
| --- | --- |
| Pioneer Valley Folklore Society Happenings | September 2019 |
Contents
Storyteller Davis Bates will join September 7 Song & Story Swap
Remembering Roger Conant
Upcoming local shows
---
Davis Bates will join September 7 Song & Story Swap
Please come share in an evening of music and stories at the Pioneer Valley Folklore Society Song & Story Swap.
Saturday, September 7, 7:00 p.m. at The Nacul Center, 592 Main St., Amherst, Mass (see map).
Davis Bates will be the featured performer at the September 7 Song & Story Swap.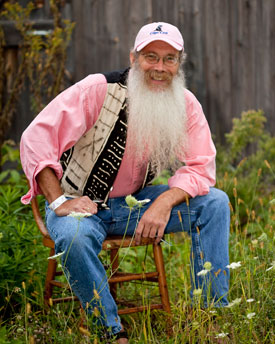 Storytelling has been Davis Bates's profession for over thirty-five years, as he has spellbound audiences in schools, libraries, and community settings around New York & New England and across the country. His recording Family Stories won a prestigious Parents Choice Magazine Gold Award, and received a starred review by the American Library Association's Booklist magazine.
Davis Bates has also worked as an actor, singer and voice artist. He is a Hampshire College alumnus and credits participation in the Five College Folk Festival, Mixed Nuts Coop, and theater at Hampshire for starting him on a performing arts path.
Davis lives in a small hilltown village in western Massachusetts, and when he isn't performing or collecting and learning songs and stories he spends his time gardening and working on various pollinator preservation projects.
The Ashfield, Mass. Historical Society offers this estimation: "The storytelling tradition is in Davis Bates' bones. He radiates compassion and warmth, connecting with his audience and helping them, through his own deeply felt and absorbing tales, to remember their own."
Learn more about Davis Bates at https://davisbates.com/.
The theme this month is The Sea.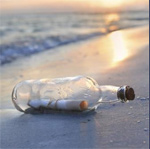 Looking ahead to next month, the Song & Story Swap guest for October 5 will be singer-songwriter Bev Grant, and the opening round theme will be Sports.
The Song & Story Swap is held on the first Saturday of each month, excepting July and August, and is jointly sponsored by the Pioneer Valley Folklore Society and the Nacul Center. Visit the Folklore Society website at http://www.filbert.com/pvfs.
The Song & Story Swap is open to the public, free of charge with donations accepted ($5 - $10 is suggested). People of all ages gather to share stories and songs that are traditional, newly written, or of personal experiences. You can tell, sing, or lead everyone in singing, or request a song or story. Listeners are welcome.
For information contact Paul Kaplan, (413)-687-5002 or visit http://www.filbert.com/pvfs.
---
Remembering Roger Conant
Few people have helped popularize folk music in the Pioneer Valley as much as Roger Conant has. Moving to Pelham with his wife Shirley in the late 1990s, Roger organized and led the monthly RUSH (Rise Up Singing with Harmony) sings. He was a charter member of the Roundsingers, a song swap held in people's homes around the area. He sang in the Leverett Community Choir. And it was a suggestion from Roger that led to the PVFS Song & Story Swap landing at its current home at the Nacul Center in Amherst.
Roger died as the result of a fall on June 24. A memorial gathering will be held on Saturday, Sept. 7 at 2pm at the Mount Toby Meetinghouse, 194 Long Plain Road, Leverett, MA.
We will miss you, Roger.
---
Upcoming local shows
9/6 - Cindy Kallet & Grey Larsen. First Fridays @Coho. Pioneer Valley Cohousing, 120 Pulpit Hill Rd., Amherst, MA. 7:30pm.
9/14 - Lunar Carnival. Wendell Full Moon Coffeehouse. Wendell Town Hall, Wendell, MA. 7:30pm.
9/15 - Girls From Mars. House Concert. North Amherst, MA. 7pm. Contact 413-256-8596.
9/21 - Roy Zimmerman. Mt. Toby Concerts. Mt. Toby Friends Meeting House, 194 Long Plain Road, Leverett, MA. 7:30pm.
---
Note. If you would prefer to receive this monthly newsletter as plain text (no photos or formatting, but requires less space), please click on the link below:


Please send as plain text, not HTML.

If you would like to be removed from the mailing list click on the link below:
Pioneer Valley Folklore Society, Amherst, Mass.
Web site - http://www.filbert.com/pvfs/
Newsletter archives - http://www.filbert.com/pvfs/news/
Email - pvfolk@yahoo.com
Discussion forum and announcements - http://groups.google.com/group/PVFS
Director/Host: Paul Kaplan
Webmaster: Jeff Lee
September 3, 2019